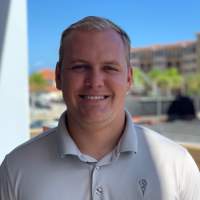 Hans Kraaz II
Hans Kraaz II recently graduated with his bachelor's in business administration from Stetson University with a major in finance, minor in management, and a concentration in corporate finance. While at Stetson he was elected public trustee of the nationally accredited Roland George Investment Program where he oversaw and voted on the disbursement of funds into their 3.5 million dollar portfolio.
He spent the last four summers working in New York City on Wall Street (specializing in distress debt trading) and in commercial lending. While in high school he was actively involved in scouting, achieving the highest rank of Eagle Scout. He also plaid varsity football and was elected captain his senior year. Before that he spent every summer since the 5th grade working at Intercoastal where he developed a general understanding of the marine Finance industry.
Hans is also an avid angler who grew up on the water. Fishing all over the world he has earned some of the most prestigious awards such as the Rybovich Top Angler in 2018. He is ready to put his knowledge to work helping our clients finance their dreams.
Customer Reviews
See what our customers have to say in independent reviews powered by Trustpilot.