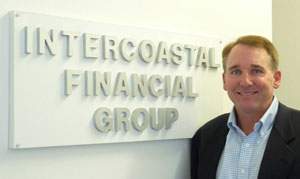 Chris Berkeley
Chris has been employed exclusively with Intercoastal Financial Group, LLC since 1994.
During this 22 year span, Chris has been in a variety of positions, including National Sales Manager from 2000-2008. During this period of strong sales, and loan origination, "Intercoastal" became a household name in boat, and yacht lending across the country with offices from CA to FL and the Northeast. Intercoastal was, and still is, recognized by most national banks as their top producer.
Currently, today, Chris covers the southeastern US and works with larger volume boat, and yacht facilities. He has several articles published in National Magazines detailing the intricacies of financing a yacht. He earned his bachelor's degree in Finance, and Economics from Florida State University and also lettered in Men's Golf while studying there.
With 25 years of financing boats, Chris has developed a very strong, and advanced sense of underwriting the most sophisticated transactions. He tirelessly travels to earn business, and has been known to be one of the most reputable, and competitive lenders in the industry.